Things are finally coming together in my never-ending great room make-over. It all started when I agreed to let G-Man put a t.v. over the mantel. If you need to catch up on

this

tale, you can do it here

!
Since the whole den arrangement had to be changed for the t.v. he promised we could make the changes necessary to make the room work better! I don't think he expected q

uite so many changes!!!
We

decided to update the kitchen first. We had never had a proper back splash so that was the first thing we did. I painted the cabinets and de-cluttered lots! Read more about the kitchen makeover here.
The breakfast room came next with the addition of a watch maker"s cabinet and the makeover of the breakfast table.
We started work on the den's make-over this spring, but t

hings slowed down after that.
The last big purchase will be two smaller chairs, but this will have to wait. The ones we have now are nice, but

it's a little crowded in that area.
In this photo you can see the smocked curtains
that I hung on every window in the great room
(den, shown here and the adjoining breakfast room)
I ordered 10 smocked, organza panels from
Soft Surroundings
They are really nice - I wanted something light and airy
Another view of great room
The lamp behind the sofa got moved
to the table between the two chairs
I would love to have an old
architectural salvage iron piece
turned lamp but they are very costly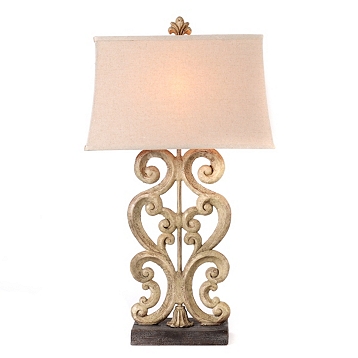 I found this lovely one at Kirklands
It looks nice on the sofa table
I am in love with the coffee table
Mason rolls it all around the den!!!
The solid wood is proving to be very forgiving
(I have already sanded and re stained a few areas)
I love the bottom shelf area
Future use: Rhonda's magazines
Current use: Mason's parking garage
I purchased the table at Tuesday Morning
On the coffee table I have a large planter
that I have filled with random 'pretties'
The container is from T.J. Maxx
I did refinish it to make it look old
I piled old books, vintage doorknobs, a crown,
old bottles, driftwood, and other various things
into the planter to create an interesting vignette
I plan to change it out for holidays
Easter will be fun
I had been wanting some crowns to use around the house
but the ones online cost more than I wanted to spend
Wisteria had a great after Christmas clearance sale
They offered a 3 piece candle holder set
I removed the glass insert and cut out the wire bottom
from the two smallest ones
I carefully forced the top edges outward and
BAM!
I have some crowns!!!
The icon inside the crown was a gift from a niece
She was able to watch it being made in
Thessaloniki, Greece
The biggest change to the room was the addition of this large rug
It helped to visually separate the den from the surrounding rooms
I needed it to be child and pet friendly
After looking for several weeks
I placed a custom order with
Sisal Rugs Direct
This one is an Al Fresco rug made of
100% UV stabilized polypropylene
Resistant to mold, mildew, sun and rain,
it can be hosed off outdoors
I ordered Costa Rica Sisal in a 13 1/2' x 14'
I got the e
xtra wide canvas trim in tan
We plan to use carpet padding underneath for added comfort
It has gotten lots of activity and I am glad to say
it is holding up well (a few pick ups from bulldozers)
After calling Sisal Rugs, they told me how to take care of pulls
I am adding blue to the room as fast and furiously as I can! I really haven't spent much money to add the blue. I had the fabrics and I unearthed some blue and white things from the basement.
Last week, a day-long junking trip in Georgia turned up some great deals on blue and white vintage porcelain to use.
I still need to make a tablecloth and some pillows

.
I will have the full three room reveal as soon as I get some sewing time so stay tuned!!!